For the few people who followed the blog on my website (http://erindanzer.webs.com), you might remember this fun weekly post! For everyone who's new to it, welcome! Every Sunday, I will be posting the first Six Sentences of up to five books that I have enjoyed reading and want to share with you all. There will be links where they can be purchased and I will mention any sales I find! This time around, I'm also going to add the book cover and blurb, simply because I know seeing is as good as reading. ;)
Imagine discovering that your boyfriend was out to kill you—and that the annoying boy from school was your guardian angel.
Rae Davenport has already lost her mother. The only thing keeping her sane is her new boyfriend, Andrei—that is, until she finds out that he wants to kill her. Andrei is a devil, and he wants to use Rae as a sacrifice to get back into Heaven. The only one who can save her is Logan, her guardian angel. He's only annoyed her in the past, but now he will be her savior.
"The flat tone of the monitor reverberated through my head as my mother's lifeless hand began to turn cold in mine. I stared into her empty eyes as a doctor came in and pronounced her time of death. A nurse reached over and disconnected the monitors, asking if I needed anything. "I'm fine," I insisted. "Take as long as you need," the doctor told me, his voice low. In all honesty, I couldn't wait to get out of the hospital."
Sophomore Alexia Grabovski is cursed with the ability to see halos—rings of goodness or evil—that surround the body. Gabriel is a Seraph, a guardian angel sent in the mortal body of a sixteen-year-old boy to protect Alex from a horrible fate. When they fall hopelessly in love, can they rise above human emotions to fulfill their destinies, even if the outcome rips their fragile world apart?
"When I was a little girl, I thought the shadows could harm me. I was terrified of them. Then I learned there are far worse things in this world than the absence of light. Things like hate, racism, pure evil, and high school. Yep, that's what I said, high school. Most people overlook the real darkness of the world, seeing instead average citizens—adults mostly, some teens, a few kids, an occasional teacher—but I see them for what they are: monsters. Now I look for the shadows, welcome them even."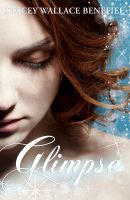 Zellie Wells has a devastating crush on Avery Adams. At her sixteenth birthday party, held in the basement of her dad's church, she finally finds the courage to talk to him. Turns out, the devastating crush is mutual. As Avery takes her hand and leads her out onto the dance floor, Zellie is overwhelmed by her first vision of his death.
"I stared at the back of Avery Adams head, imagining what it would feel like to press my face into his wavy brown hair. I longed to experience the exhilaration of running my fingertips over his broad shoulders and down his chest, of standing that close to him, feeling the heat coming off of his golden skin. He was two people ahead of me in the line to take communion. I tried to focus on the smell of his shampoo. Unfortunately, the two people between us were my mom, and his dad. With them blocking the way, all I could smell was tea rose perfume and extra strength drain cleaner. Not a pleasant combination."
Sixteen-year-old, Skyla Messenger is a dead girl walking. When her family moves to Paragon Island, to a house rumored to be haunted, Skyla finds refuge in Logan, a boy who shares her unique ability to read minds. Logan is reluctant to answer Skyla's questions about their gift, but why? Suddenly an entire faction of earthbound angels wants her dead, at least she still has Logan, or does she?
"Falling in love is a lot like death. It chooses you. It decides the moment and the chain of events that will preclude the precise intersection of life in which it occurs. It uses you—treats you as though you were malleable in its warm pliable hands. It doesn't bother to ask if you want it, or need it, just fills the gaping hole of destiny's design. Love. My world blooms with its beautiful never-ending ache."
Jason races into Azazel's life--sweaty, tortured, and hunted by covert forces. Even though her football-player boyfriend doesn't like it, Azazel is drawn to Jason. He's so complicated. He gets in fistfights, but always wins them--efficiently and thoroughly. He reads Plato and argues with their AP teacher. But he's also quiet and serious, haunted by a past he won't talk about. Azazel feels obsessed. She can't let anything get in the way of finding out Jason's secrets, not even her boyfriend, her friends, or her parents. Most importantly, no matter how dangerous Jason claims it is for her to be near him, she can't let him leave. As menace begins to surface from even the most trusted and familiar places, Azazel finds herself flung into a whirlwind of sinister motives and clandestine proceedings. Though Azazel evades each escalating danger, her feelings for Jason may prove to be the greatest danger of all.
"It was a typical Friday night in Bramford, West Virginia, and I was spending it in a typical way,
making out with my boyfriend Toby in his Ford pick-up truck. As usual, I was trying to fondle his crotch. He was pushing my hands out of the way. Yes, that's right. While the situation was typical for Toby and me, we were the reverse of the standard American teenage couple. I wanted us to have sex. Toby wanted to wait so that it could be special."
That's it for today's edition of Six Sentence Sunday! I hope you've found something wonderful to read from this small selection!
Happy Reading!
EM