Welcome to another fun edition of Six Sentence Sunday, where I share the first six sentences of books I've read or can't wait to read and give you links where you can find them. I hope you enjoy today's featured titles!
Fae Heath wants to be on TV, but not just any show. She wants to be on Ghost UK. She intends to win the contest to find the next presenter. Tall, slim and blonde and access to a haunted Welsh Castle on Halloween – how can she fail?
"And cue, Fae." Mist swirled in front of Fae's vision in the dusky twilight. "I'm here at the gateway to a very special place this Halloween. Follow me inside November Castle as I uncover the legendary secrets of the ghostly Green Lady and that of her faithful wolf companion." Her sister, Izzy, stopped filming and Fae rushed over to look at the results. "That looks fine. What do you think, Flash?"
The werewolf king Gorgoza is dead leaving the west in turmoil. With the king's passing it is only a matter of time before someone has claimed the western empire for themselves, leaving the east ripe for invasion. Against the werewolf hordes no eastern kingdom stands a chance for survival.
But all hope is not yet lost for there may be a way to destroy the monsters of the west. Such a chance comes from the most unlikely of sources, Cada Varl the Immortal, the being responsible for the creation of the werewolves.
Accompanied by 6 of the greatest warriors of the great warrior society of Helluv Cada Varl journeys into the west in the hopes of saving the east from utter destruction. Facing impossible odds the group must journey across lands that will offer nothing to them but misery and death.
The Rodovic war was the bloodiest and longest conflict of its age. Fought between the kingdoms of Gatavoi and Belrondia, it was a war that lasted for three decades. But it was on the fields of Marga where the most important battle of history was fought. Over one million warriors from both kingdoms waged a battle more ferocious than any other. By the 11th day the battle had come to a bloody end and only a single man still stood. Cada Varl, a soldier of Gatavoi. But after seeing so much blood and death Cada Varl had lost his humanity. As he began to wander the land aimlessly, wolves, drawn by the smell of blood and death came to the field and feasted on the flesh of the fallen.
~ Shane Porteous (2011). How Gods Bleed.
Smashwords
When Andy Tanaka finds an old wooden chest in a storage shed on his family's flower farm, he can't wait to share his discovery with his best friend, Leigh Becker.

Inside the dusty lacquered chest are a pair of swords, some Japanese clothing, and a mysterious scroll, which could provide links to his samurai ancestor. They find someone to translate the scroll and then research the significance of the other items, intent on ensuring the legacy isn't forgotten.

In the process, they learn not only about samurai history, but also some surprising truths about themselves.
"Are you reading those ridiculous comic books again? Honestly, you're a college graduate. Aren't you a little old for those?"
"Dad, they're called manga. They're different. They're illustrated Japanese stories." Leigh Becker closed her book and stood. Even as the words left her mouth, she knew correcting her stepfather was useless.
~ Patricia Kiyono (2011). The Legacy. Astraea Press. Kindle Edition Nook Edition Smashwords
When Zanna Seoul accidentally causes the death of a fellow spirit guide's charge while trying to save the life of the man she loves, she is stripped of her position and banished to Earth to die. In the spirit world, one doesn't mess with what's written.
With Zanna no longer guiding him and his memory of her erased, Owen Nash is left wide open as the target of the vengeful spirit guide who feels he's been wronged. A guide who also happens to be a werewolf. Once on Earth, Zanna refuses to stand by and watch Owen die, so she intervenes again, setting off a chain of events that could mean death for all of them if she doesn't go back and undo the mess she's made. Can Zanna succeed before the werewolf does?
"Owen, please don't go to work today." Zanna slapped a hand over her mouth. Did she just say that out loud? What the heck was she trying to do? She was Owen's spirit guide for goodness sake. Her job was to make sure he followed his charted course while living on Earth.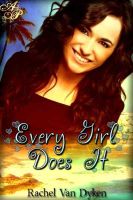 Amanda turned down Preston's prom invitation in front of her entire high school, but that was eight years ago.
Somehow, her past mistakes always have a way of catching up with her, and making her pay. Amanda's sarcastic wit mixed with Preston's insufferable ego make sparks fly in more than one way.
Preston, against his better judgment can't fight the desire to get under Amanda's skin and mercilessly tease her, but when that teasing becomes flirting, and flirting becomes something dangerously more, neither of them are prepared for the adventure that follows.
Oh no. This is not happening, not happening! I wipe my hands over my pleated skirt, a nervous habit. Sweaty hands aren't attractive, or so Brad Macintosh said when he held them during couple's skate my seventh grade year. It's my first choir solo ever. Why couldn't it be our fall concert instead of our Spring Spectacular?
There you have it, folks! I hope you've found something fun to read!
Happy Reading!
EM