Good morning, everyone! (I can say that since it's 12:30AM where I am right now! lol) I hope by the time you read this that your Sunday is going smashingly. :) Today I'm going to feature some contemporary YA novels that I've read and enjoyed. I hope you will give them a chance to enjoy them, too!
Aspiring ballerina Dani Spevak is thrilled when hit TV show Teen Celebrity Dance Off comes to the campus of her performing arts boarding school. She trades the barre for the ballroom and gets set to cha-cha-cha to stardom with Hollywood wonderboy Nick Galliano.
At first their partnership is awkward, because Dani is in awe of her longtime teen idol crush. But soon their chemistry is heating up the dance floor and the attraction moves into real life.
Her excitement is short-lived, because someone wants her off the show. Bombs, poisoning, arson… Will Dani's 15 minutes of fame be over before she reaches age 15? Dani and her friends are suddenly at the center of some serious sabotage. And if she doesn't find out who is behind it, her next pirouette could be her last.
It's like Nancy Drew in toe shoes in this light-hearted tween mystery, a finalist for Romance Writers of America's Golden Heart® Award for Best Young Adult Romance.
My first hint that the devil was wearing Prada earmuffs and a Burberry scarf should've been when my parents gave in and let me go to the Mountain Shadows Academy of the Arts. After all, they'd sworn up and down it would be a cold day in Hades before they let me go away for high school. I definitely didn't inherit my Grandma Rose's ESP — she's what she calls 'fey' and my dad calls 'crazy' — or I would have realized my world was about to be turned upside down. But I guess it's not surprising I'd missed the signs. I mean, there's not exactly much use for earmuffs and a scarf in Arizona. I forgot to mention. That's where I would be for the next four years.
When Zoey's long-time boyfriend, Finn, cheats on her—kissing a girl he "just can't resist"—he gives Zoey a "free pass," telling her she can kiss any guy she wants. Finn is so cocky and sure of their relationship that the arrangement seems perfect. He's not worried Zoey will fall for another guy, and he's itching to get rid of his feelings of guilt.

But the thing is, Zoey knows exactly who she wants to kiss—longs to kiss— Finn's best friend, Riley. But, she wants the kiss too much. She knows that. So, she resists the "Free Pass." Still, she's pushed into it when Finn loses a bet to Riley, and Riley wants his payment—a kiss from Zoey.
"Back off!" I slammed down my serving tray, storming through the restaurant's kitchen. I didn't even care (for the most part) that all my co-workers were now staring at me. So what? I'd had enough. They were all catty witches anyway and I was ready to quit. Riley was at my elbow in a second. "What's going on?"
~ Melanie Marks (2011). Fall For Me (Young Adult Romance). ThunderStruck Publishing. Kindle Edition (this title is currently only available through Amazon. :( )
Unforgettable moments shape a romance that could last a lifetime.
Jen Adams's first kiss didn't happen the way she'd expected. On a steamy summer's day, a shared moment with a boy who runs with a bad crowd leaves an indelible impression on a thirteen year old girl. But that's only the first time Jen and Drake Malinson's paths cross in an unforeseen way.
The night of junior prom Jen bumps into an older, sexier and even wilder Drake. He distracts and mesmerizes her, turning a disastrous evening into one she'll always remember.
When they meet again as adults under stranger circumstances, Jen tries to ignore old memories. Were her insights into Drake real or had his kisses seduced her into believing he was deeper than he was. Can straight-arrow Jen and aimless Drake change enough to find common ground?
"Nice titties, Banacek. Big." It was a sneer, not a compliment, drawled by a hulking monster of a boy who could've been a linebacker but was instead a waste of space druggie and, from the gossip Jen had heard, a criminal. "Shut up, Crawford, you little pencil dick." Tara Banacek was bold. You had to give her that. It was easy to see why she was the queen bee in the middle school hive.
~ Bonnie Dee (2011). Four Kisses (contemporary romance). Kindle Edition Nook Edition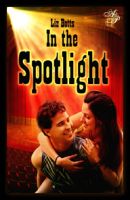 When sixteen year old Hannah Brewster lands the lead in the school musical she hopes it will be the perfect chance to get the attention of her family and her long time crush, Kyle. The only problem is that school super star, Josh Larson, has been cast opposite her, and he seems to like her as more than just a cast mate.
As Hannah and Josh grow closer, things between Hannah and Kyle get complicated. When Hannah realizes that Kyle is not who she thought he was, she also realizes that she just might like Josh as more than just a friend.
Will Hannah and Josh be able to overcome their obstacles and admit their feelings before the musical ends?
"Look out!" I was drawn out of my Kyle and Claudia contemplation just in time to see a basketball hurtling toward my head. Well, a basketball and Josh Larson. Josh knocked the ball away just as it was about to make contact and landed hard on the bleacher in front of me, wincing in pain. "Oh my gosh!" Claudia jumped to her feet. "Josh! Are you okay? That was so brave."
~ Liz Botts (2012). In The Spotlight. Astrea Press. Kindle Edition Nook Edition Smashwords
Korinne was born addicted to drugs, and life has been headed downhill ever since. After her abusive mom is arrested, Korinne is given a second chance when she's placed in foster care. There she meets the girl who becomes her best friend and the boy she falls in love with.
When her mother is released from jail, she demands that Korinne be returned to her care. Korinne runs away only to end up living on the streets. After suffering an overdose, she awakes in the hospital…and finds out she's pregnant.
16-year-old Korinne must pick up the pieces and heal so she can provide a better life for her baby—and for herself.
I hid in the closet when I heard the car pull up. Voices got louder as the front door opened. One was Mom's voice, she was slurring her words and giggling. Clearly she was drunk again. The other voice was deeper, a man's, not one that I recognized. I shrank back as far as I could and covered myself with my dirty clothes. "I'm sure she's here somewhere," my mother was saying.
~ Talia Jager (2011). Lost and Found.
Kindle Edition
Nook Edition
Smashwords
(*A note about this book: it is very graphic at times and deals with sex, drugs and addiction.*)
I hope everyone enjoyed these books! As always, if there is something you would like me to feature, just drop me an email and I will gladly get back to you. :)
Happy Reading!
EM