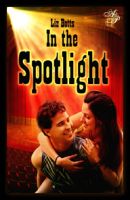 Blurb ~
When sixteen year old Hannah Brewster lands the lead in the school musical she hopes it will be the perfect chance to get the attention of her family and her long time crush, Kyle. The only problem is that school super star, Josh Larson, has been cast opposite her, and he seems to like her as more than just a cast mate.
As Hannah and Josh grow closer, things between Hannah and Kyle get complicated. When Hannah realizes that Kyle is not who she thought he was, she also realizes that she just might like Josh as more than just a friend.
Will Hannah and Josh be able to overcome their obstacles and admit their feelings before the musical ends?
My review ~
I would actually like to give this book 4.5 stars but nobody allows that. I honestly wasn't overly wowed with this book. I found it a bit predictable and even a little cliched at times (even the MC points out the cliches at one point).
But I did meet a group of characters who were all 110% genuine to me. Everyone had a unique voice, unique problems and depth. Grandma cracked me up (and scared me a little - amateur night - yikes!). I knew Kyle was a jerk from the beginning and didn't understand how Hannah couldn't see it. Every time she wondered about Josh, I asked myself how she couldn't know - and had *I* been like that in high school? (to which I almost always answered yes.) The waiting for Josh and Hannah to *finally* be together felt dragged out, but it was also worth the wait. ;-)
Even while the plot was predictable, this book was a fun read. I would love to read more from Ms. Botts and definitely recommend this book to anyone looking for a light, fun YA contemporary read.
I also just found out this book was just published 2 days ago so I feel lucky to have gotten it for free from Astrea Press yesterday. If you haven't checked it out, I do recommend it. It's available from
Amazon
(where it's only 99cents!),
Barnes and Nobles
and
Smashwords
.
Happy Reading, everyone!
EM