Good morning! Welcome to another edition of Six Sentence Sunday, where I share with you up to 5 books that I have enjoyed, their blurbs and links where to buy them - oh, and their first six sentences! All books have ebook links but some (or maybe most) are available as paperback as well. :) So without further ado, let's begin!
Meghan Chase has a secret destiny; one she could never have imagined.
Something has always felt slightly off in Meghan's life, ever since her father disappeared before her eyes when she was six. She has never quite fit in at school or at home.
When a dark stranger begins watching her from afar, and her prankster best friend becomes strangely protective of her, Meghan senses that everything she's known is about to change.
But she could never have guessed the truth - that she is the daughter of a mythical faery king and is a pawn in a deadly war. Now Meghan will learn just how far she'll go to save someone she cares about, to stop a mysterious evil no faery creature dare face; and to find love with a young prince who might rather see her dead than let her touch his icy heart.
"Ten years ago, on my sixth birthday, my father disappeared. No, he didn't leave. Leaving would imply suitcases and empty drawers, and late birthday cards with ten-dollar bills stuffed inside. Leaving would imply he was unhappy with Mom and me, or that he found a new love elsewhere. None of that was true. He also did not die, because we would've heard about it."
~ Julie Kagawa (2010). The Iron King (The Iron Fey #1). Harlequin TEEN. Kindle Edition Nook Edition
also available as paperback novel.
Before. Everything was so much better Before. I wasn't haunted by nightmares, my place at school was secure and my face was flawless. Now, I'm a freak and everything has changed. The worst part is that I can't remember the night I was sentenced to the shadows. The memory has been stolen from me and I just can't shake the feeling that someone, something is out there -watching.
Just when I think I have my life handled, Sam, with his intimidating golden stare and shiver inducing voice, makes me realize that I don't know anything. He makes me see that my scars don't matter. That they never mattered. I can't help but fall for him, completely unknowing that he knows exactly how I got this way. Not knowing he was involved.
***
Heven has no idea how closely death stalks her. She has no idea what I have done to keep her alive. I fear the day she learns my secrets, finds out what I really am. But even then I cannot stop, I vow to make things right. Finally her hunter will be hunted, Heaven and Hell, faith and sin will battle, and we will be victorious. But first, Heven must learn to be what she never imagined. I know her strength is there – I feel it. If we are to overcome all odds, she must push past her flaws - her frailties - to become much more.
The street was dark and deserted. I wished, not for the first time, that I had a car. But I didn't, and I'd spent too long in the library, so now I had to walk home in the dark. It was a clear night, and there were a million stars nestled in the sky, twinkling brightly alongside the moon. I was nearly home, my street just yards away. The night was quiet, exaggerating the sound my heels were making on the pavement.
~ Cambria Hebert (2011). Masquerade (Heven & Hell) . Otherworld Publications, LLC.
Kindle Edition
Nook Edition
Smashwords
What happens when a powerful elvish monarch opens a doorway from Sídhí to Earth?
He stumbles upon a beautiful halfling who may spell doom for his entire world. When she turns out to be his predestined lifeMate, he knows without a shadow of doubt, his day has gone from bad to worse. Full-bloods, especially royals, never mate with halflings.
~ ~ ~
What's a girl to do when her destined lifeMate tries to kill her?
It all starts late one night about midnight ~ the only realistic time for a blood drinker to be out and about.
Miranda is having a fun-filled trip to Tulsa, celebrating her seventeenth birthday. Well, it was fantastic until her lifeMate tries to kill her.
Life as she knows it is about to come down to two critical facts: Stay away from sharp swords and do not fall off the commode.
If my lifeMate – supposedly the perfect guy of my dreams – wasn't trying to kill me, I'd be much happier. Sigh, sorry, let me backup. I've gotten way ahead of myself. It all started earlier today, while I was still on Earth, walking through a park and minding my own business. For the first time in several months mom and dad agreed it was safe enough for me to visit Earth. The real Earth, not one of the second dimensional valleys all Sídhí live in.
For one-thousand years, Druid prophecies foretold of a young witch destined to alter the fate of both human and immortal alike. This witch-turned-vampire would be capable of harnessing the supernatural abilities of both and, in a bloody rise to power, would rule with unwavering control.
Unwillingly thrust into a world she never dreamed existed, Liz Markum is catapulted into an ancient war between rival vampire factions. She must choose between those she loves and the ever-present darkness attempting to devour her very soul.
Only one question remains: Will Liz claim her birthright or surrender to the dark gift?
This was crazy. Just forty-eight hours ago the man whose hand she held with an iron grip, whose comfort she sought in this unimaginable whirlwind of chaos, and was willing to sacrifice herself for if need arose--had killed her. She glanced around the hall hoping to find a friendly face...anything that might calm her wrangled nerves. The spacious room coupled with a high-arched ceiling could have doubled as an auditorium. Three rows of tiered benches surrounded the grayed wood floor, adding to the effect. Dotted throughout the crowd were beings of extraordinary beauty.
~ Willow Cross (2011). Birthright. Willow Cross.
Kindle Edition
Nook Edition
Smashwords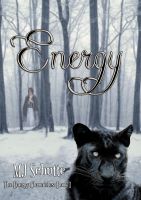 Follow Brighton and Lilian through an action packed, fast paced adventure in the first book of the Energy Chronicles Trilogy as they discover their unique talents in the art of energy manipulation.
As teenagers, Brighton and Lilian live quiet, peaceful and uncomplicated lives in a remote mountain village called Four Mountains. Before they can explore their feelings for each other, a dark secret about Lilian's past rips their world apart. Brighton finds himself fighting for the girl he loves as well as his own life while simultaneously discovering an even bigger secret about himself.
Brighton has to overcome great odds and even death itself if he is going to save himself and Lilian from the evil determined to destroy them.
LILIAN CRAWLED AROUND the tree, trying to be as quiet as possible. She held her breath as she looked behind her. Her white dress was covered in mud but she didn't care, as long as she stayed hidden. She turned her head forward again and looked straight into a pair of muscular legs. She scrambled to her feet and turned to run but a strong arm circled her waist and lifted her off the ground. The man pulled her close to his chest. A deep voice said softly, 'Where are you going, little one?'
~ MJ Schutte (2012). Energy - The Awakening (THe Energy Chronicles).
Kindle Edition
Smashwords
There you have it! I hope you've found something fantastic to read this week! :) If you have anything you'd like to see listed as a recommendation, leave it in the comments section below! Thanks for stopping by!
Happy Reading!
EM